Once upon time there was India. Then there were India and Pakistan. Then there were India, Pakistan and Bangladesh. All from the same piece of land.
Soon there were several states and a few Union Territories within this great country of India. Some parts though still held out, hoping to remain independent from the Republic. One such thorn in the India's rear end ( forgive me for deviating from set norms :P ) was Hyderabad. The Nizam of Hyderabad beat around the bush until the Indian Army's might forced him to accede Hyderabad to the Union Of India.
More than half a century later, a totally new problem has arisen in Andhra Pradesh as a whole. The issue of Telangana. There were always those not content with the formation of the state of Andhra Pradesh in 1969. What they wish for now is a separate state under the name "Telangana". Reasons cited vary from administrative negligence of the Telangana region to the people of "Telangana" having a separate dialect. Now if we were to have a separate state each for every dialect, then in India we'd end up with well over a 1000 states. Whoever said there was unity in diversity should be shot (of course, I'm just kidding).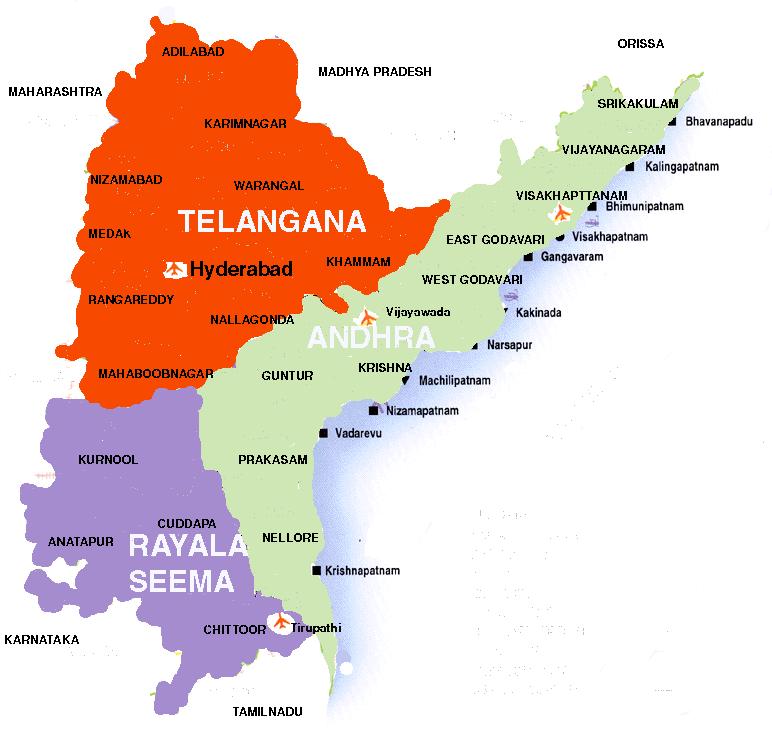 As it is with any cause, this one too received widespread support from political parties looking to increase their vote banks. In India it's never about the validity of the cause, it's always about the number of votes to be gained or lost by it. At the forefront of this was the TRS (the Telangana Rashtra Samithi) led by a certain annoying politician whose name I could never remember until he pulled his latest stunt.
That "stunt" was a 11 day long fast that saw the media pick at the story like vultures squabbling over a deer carcass. This fast was conducted by K Chandrasekhar Rao in a nice posh hospital, with all his fans/ supporters/ jobless-people-who-had-nothing better to do around him. His supporters suffered a metaphorical groin punch when someone filmed their leader taking juice in the midst of the fast. Must have been a giant /FACEPALM.
The aforementioned jobless people went on a rampage ( "Jolly good, lads, lets go burn some buses, what say??") on 29th November. They held the city to ransom again on the 5th of December. KCR finally called off his farce... ooops fast when Home Minister P.Chidambaram said that they'd create a new state. Miraculously KCR was discharged from hospital within 2 days of this, quite amazing considering the man had been "critically unwell".
This man is in a world of trouble right now, boy I'd hate to be him.
(yes that's Rosaiah, the current Chief Minister of Andhra Pradesh)
In the following days, more buses have been burnt, stones have been thrown, shops have been shut, ministers and MLAs have tendered resignations..... but no resolution for a separate state has been tabled yet. This however has led to the "Telangana effect". As LOL-worthy as the name is, this is serious business. Now Miss Mayawati, the self-obsessed statue-building leader of the Bahujan Samaj Party, wants two more states under the names "Paschim Uttar Pradesh" and "Bundelkhand". Leaders of the Gorkha Janamukti Morcha then threw in their demand for "Gorkhaland" to be carved out of West Bengal. Add to this the everpresent thorn in Maharasthra's side, the Marathi vs Hindi debate. Debate? Who am I kidding? Its just a feud fuelled by the Shiv Sena and Raj Thakre's MNS.
This mass cluster-f**k is the result of brain-dead people who don't think twice before electing their leaders. The only people who'd benefit from a new state are the ones who will rule it. They have power, they control the flow of wealth. The future of their offspring is hence secured, and so too their name as a "founder" of their respective state. There's a whole lot of students at Osmania University too, half of whom make it their business to agitate even for causes that remotely concern them, as they did for Telangana. If this was China, these brilliant minds would be charged for rebellion, lined up and have their just desserts delivered to them by a firing squad.
Speaking a separate language is no criteria for a separate province, where did that sense of being Indian go?? Do we not have a national identity?? Shouldn't we put the nation before our individual regions?? As a friend of mine told me of late - "Give me a piece of land on Harrington Road or Mount Road and a ministerial birth, I'll fast for a few days." That's pretty much what it has come to in our once-united nation.
What good is it blaming our neighbours for terrorism when we've got enough of it in our own homeland. Not terrorism per se, but a mutual hatred for people of other regions based on nothing but the words of some leader looking to profit from the depths of our stupidity.
Brace yourself fellow Indians, for your children will soon have to learn the names of 30+ states when they learn Indian geography and the names of a few more worthless politicians in Indian history.
We no longer need China or Pakistan to foment trouble, we can do it ourselves, thank you very much.
UPDATE: Recently, another "very popular" (yeah, right) politician from Tamil Nadu has joined the "Split India Movement" (in contrast to Gandhiji's Quit India Movement) and asked for bifurcation of TamilNadu into two smaller states. Maybe he wants to better the odds to make his son a Chief Minister, now that this son is no longer a Union Minister. Check the 2nd comment regarding this person on the following page -->
A news story
- Check it out, but you'll understand only if you're relatively well versed with Tamil.
Vote for me now!
Blogomania 2010 sponsored by Odyssey360 | Buy online from over 5 million books